Liverpool Football Club, one of the most storied clubs in English football, faced off against Brighton & Hove Albion Football Club in a match that will be remembered for its thrilling moments, remarkable goals, and the sheer display of talent on both sides. The clash took place at Anfield, Liverpool's hallowed home ground, and it was a match that had fans on the edge of their seats from start to finish. Let's take a journey through the Liverpool F.C. vs. Brighton & Hove Albion F.C. timeline to relive the key moments and emotions of this exciting encounter.
Pre-Match Anticipation
Before Kickoff:
Fans from both Liverpool and Brighton descended upon Anfield, their hearts filled with anticipation and hope. Liverpool, with their rich history of success, was the clear favorite, but Brighton, with its well-organized and hardworking team, aimed to prove they could compete with the best.
\
Team News:
Liverpool was without some key players due to injuries, including their star forward Mohamed Salah. Brighton, on the other hand, had a relatively fit squad, and their manager emphasized their need to capitalize on this opportunity.
First Half: The Battle Begins
Kickoff:
The referee's whistle signaled the start of the match, and the fans erupted with excitement. Liverpool kicked off, and the game was underway.
10th Minute: Brighton's Solid Defense:
Brighton demonstrated their solid defensive capabilities. Liverpool's attacks were consistently thwarted, and they struggled to find space in Brighton's well-organized backline.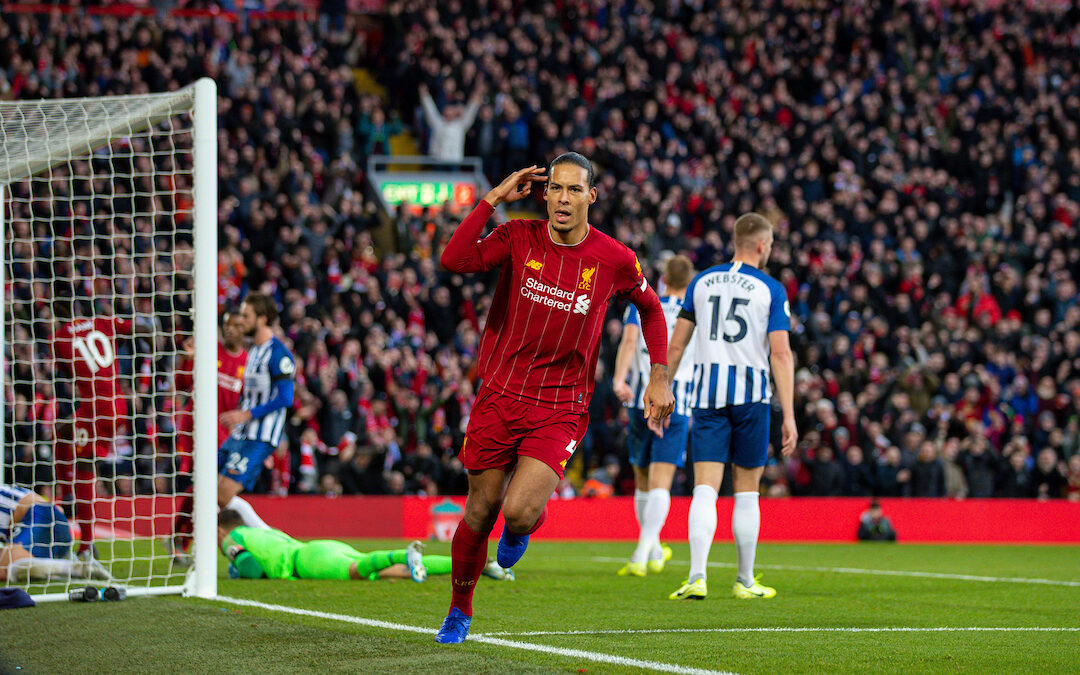 25th Minute: Frustration for Liverpool:
Liverpool was growing increasingly frustrated as their attacks failed to penetrate Brighton's defense. Sadio Mane and Diogo Jota made several attempts, but they couldn't break the deadlock.
35th Minute: Opening Goal – Brighton's Surprise Lead:
In a surprising turn of events, Brighton broke the deadlock. A well-timed through ball found Leandro Trossard, who skillfully chipped the ball over Liverpool's goalkeeper, Alisson Becker, to give Brighton the lead. The away fans erupted in celebration, while Liverpool's fans were stunned.
Half-Time: 1-0 to Brighton:
The first half ended with Brighton in the lead. Liverpool's manager, Jurgen Klopp, had a tough task ahead as he needed to find a way to overcome Brighton's solid defense and turn the game around.
Second Half: Liverpool's Fightback
46th Minute: Liverpool's Quick Response:
The second half began with Liverpool showing renewed energy. Just a minute into the half, Liverpool's Naby Keita scored a stunning long-range goal, leaving Brighton's goalkeeper, Robert Sanchez, with no chance. Anfield erupted in cheers, and the momentum had shifted.
60th Minute: Liverpool Takes the Lead:
Liverpool continued their attacking onslaught, and in the 60th minute, Diogo Jota tapped in a rebound after a save from Sanchez. Liverpool was now in the lead, and the atmosphere in the stadium was electric.
75th Minute: Brighton's Resilience:
Brighton, undeterred by the sudden turnaround, displayed resilience. They began to push forward, putting Liverpool's defense under pressure. The tension in the stadium was palpable as both teams fought for control.
80th Minute: Equalizer for Brighton:
Brighton's perseverance paid off in the 80th minute when Adam Lallana scored against his former club. The Brighton fans were overjoyed, and the match was level once again.
Full-Time: 2-2:
The final whistle blew, and the match ended in a thrilling 2-2 draw. The fans had witnessed an enthralling contest, filled with moments of brilliance and determination from both sides.
Post-Match Reactions
Liverpool's Manager Jurgen Klopp:
Klopp praised his team's fighting spirit but acknowledged that they missed some crucial chances. He also expressed his admiration for Brighton's performance, calling them a "tough nut to crack."
Brighton's Manager Graham Potter:
Potter was pleased with his team's performance and their ability to hold their own against a powerhouse like Liverpool. He highlighted the importance of his team's resilience.
Player of the Match: Naby Keita:
Naby Keita's long-range strike and overall performance earned him the Player of the Match award. He expressed his joy at helping Liverpool secure a point in a challenging match.
Fans' Reactions:
Both sets of fans left the stadium with a sense of satisfaction. Liverpool's fans were relieved that their team had fought back to secure a draw, while Brighton's fans were proud of their team's performance against a formidable opponent.
Conclusion
The Liverpool F.C. vs. Brighton & Hove Albion F.C. match was a true spectacle of English football. It showcased the unpredictability and excitement that the sport can offer. Brighton's solid defense, Liverpool's attacking prowess, and the never-say-die spirit of both teams made it a memorable encounter.
In the end, it was a match that reinforced the idea that football can be a great equalizer, where any team can shine on their day. The fans left the stadium with unforgettable memories, and the football world celebrated the spirit of competition displayed by these two remarkable teams. This match will be remembered not only for its goals but for the emotions it stirred and the unity it brought to fans of the beautiful game.